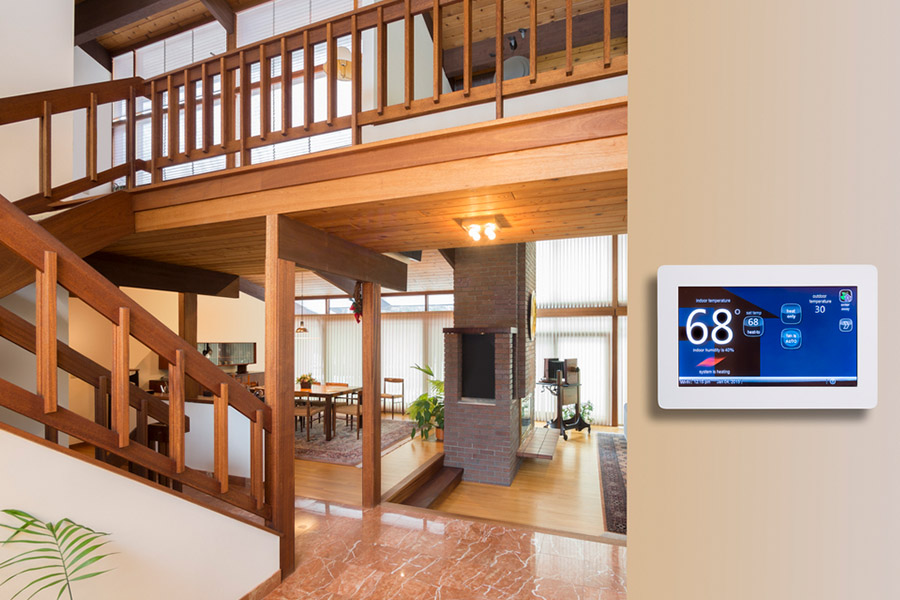 Does It Make Sense To Install A Smart Thermostat In Port St. Lucie? | Secure24 Alarm Systems
The latest smart thermostats have advanced far beyond the rudimentary device for controlling your home's comfort levels. If you think now might be the right time to install a smart thermostat in Port St. Lucie, you're going to get a wealth of comfort with less effort on your part. Equipped with wireless connectivity, multi-room sensors, and home automation, these innovative instruments will bring down your heating and cooling costs and enhance your property's comfort and security.
How Do Smart Thermostats Work In Port St. Lucie?
Following installation, your new smart thermostat will run in a comparable fashion as your previous model in the sense of core usability. The design may be more contemporary, but you'll have the same ability to see the current temperature. You'll still have the chance to increase or decrease the temperature right from the component, and it still offers the ability to switch between fan, heat, and cool.
However, in the event you install a smart thermostat in Port St. Lucie, you will enjoy a nice addition of new possibilities. This is due to the fact that your home's comfort control is linked into a larger system, like an AI assistant or home security system. Using a central interface or smartphone app, you may program your smart thermostat to change the temperature in an automated manner at whatever times you choose or to respond to different stimuli. The bottom line is a home that's more comfortable and energy-efficient.
Reasons To Install A Smart Thermostat in Port St. Lucie
There are a range of justifications for switching from your old device to a smart thermostat:
● Simple management with a mobile app. Take command of the thermostat no matter where you are with a mobile app such as ADT Control. Are you feeling a bit overheated as you're attempting to fall asleep? Just access the app and turn on the air from your bed. You might even inspect your home's temperature readings on your beach vacation, and alter the settings to reduce energy usage if your house is empty.
● Create smart schedules. Your smart thermostat gives you the ability to use smart schedules for your HVAC system. Program various temperature adjustments to accommodate your family's needs. Reduce the heat as you prepare for sleep, then raise it about an hour before you arise. Or design heating or cooling scenes for certain situations -- for example a scene for when you're hosting a party or a scene for when you use the fireplace.
● Lower utility bills by using home automation. A great benefit of smart thermostats is that they can reduce your heating and cooling bill. You are able to easily modify the temperature as needed due to seasonal changes, weather, or time of day. There's no need to throw money away treating the air within a vacant residence. And when you set schedules, your thermostat changes the temp automatically. Various utility services are known to provide special savings and rebates for qualifying models or situations.
● Utilize vocal directives to direct your smart systems. If you elect to install a smart thermostat in Port St. Lucie, you also have the opportunity to configure it to function with a Google or Amazon AI assistant. This offers the chance to adjust your home's comfort without even using your hands.
● Connect your thermostat to other home automation devices. If your smart thermostat is incorporated within a complete home protection plan, you have the chance to join all your devices together. This will help protect your property when disaster strikes. For example, you may direct your thermostat to engage the exhaust fan if your fire alarm goes off.
Upgrade Your Home With A Smart Thermostat In Port St. Lucie Today
If your old thermostat fails to satisfy your home comfort requirements, you should consider upgrading to a versatile "smart" model. They're streamlined, a cinch to control, and can save money over time. It's also best when you link it with a modern home security system. Contact us today at (772) 237-3604 or send in the form below to order your Port St. Lucie smart thermostat.
Communities Served Around Port St. Lucie By Secure24 Your Local ADT Authorized Dealer